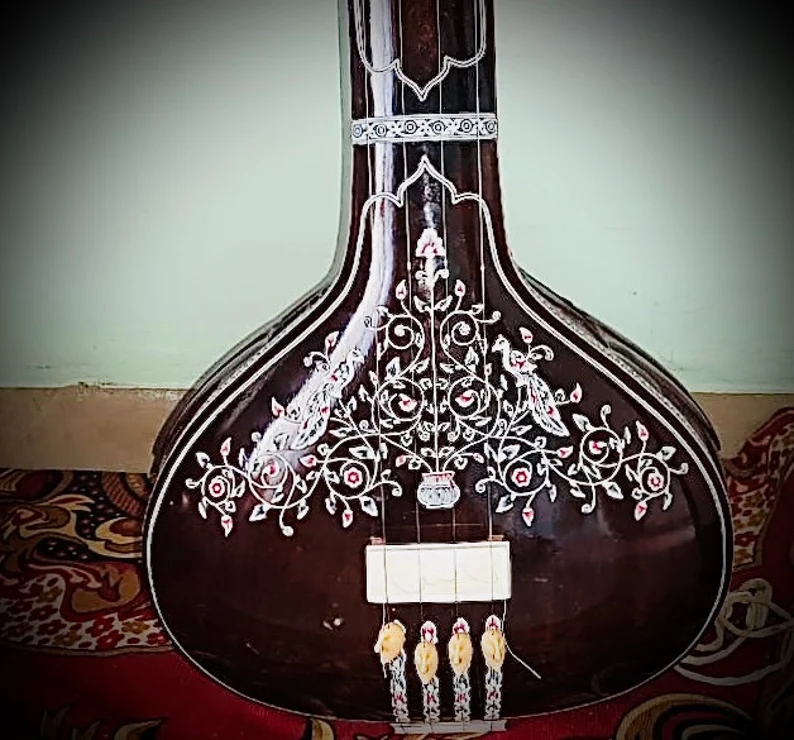 About Tanpura
Tanpura is one of the most beautiful instruments in structure yet has endless musical possibilities. For absolute beginners in music, the Indian system is a more natural and clear way to learn. In comparison to western music, Indian music begins from the very basics of sound and works up, giving minimal theory until necessary.
All our intruments are bespoke – made to order.
Any colour or design in any of the Tanpura listings in this shop can be accommodated to any size Tanpura (Small / Female / Male) as well as any special request for the amount decoration.
The price will be adjusted (less or more) for special requests . Please contact us for with any requests.
'Male' and 'female' just refers size and pitch in relation to singers. Male and female singers generally sing low or higher respectively.
"Male" Tampura refers to the male voice as these are deeper in tone then female Tanpuras. Yet they are suitable for use with any instruments and vocalists that need to be between the tuning range of C to E.
We make the highest quantity Tanpuras in our workshop in Miraj, India.
Our shop has highly reputable makers who take great pride in their work in our small workshop in Miraj India (a place famous for generations of artisan Tampura and Sitar makers ). Our small workshop has very reputable 3rd generation artisan makers. We will not compromise on quality of workmanship in the creation process.
We realise Tanpuras will be found cheaper elsewhere, but the range of quality of Tanpuras in general throughout the market is huge. We have not seen Tanpuras that match our quality anywhere in the West.
These are the very highest quality and you can feel safe. Your instrument will be made with the best materials and delivered safely in a world class flight/ hard case.
We realise it can feel like a risk ordering something so large and precious online to have it delivered half way across the planet! But you have our guarantee that the instrument will arrive without a scratch. Our hard cases are world class and we further pack the whole case in plenty of protective spongy type material so even the hard case itself is totally protected. We have never had one instrument damaged on deliveries as far as South America.
Please feel free to ask any questions. Feel free to ask any equations about Tanpuras and their use etc,- no expectations to buy. Indian music is my passion and mission in life so I am happy to answer any questions from people who feel interested.